Domain Authority 101: Everything You Need to Know for SEO Excellence
Domain authority is an indicator of the authoritativeness of your website. If this score is high, the search engine will consider your website a credible source. Although this doesn't mean that a high domain authority score will assure a high ranking in results.
But still, domain authority has some effects on the SEO of your site. If you are confused about this metric (DA) and its effects on your website's performance, then this post is the right place for you.
In this article, we aim to cover everything there is to know about domain authority.
Introduction to Domain Authority
Moz is a platform that provides SEO services and tools. This platform came up with this metric known as domain authority. We tell you that to let you know that domain authority is not directly acknowledged by Google or any search engine.
Moz itself writes that DA is not a Google ranking factor. So, if you think of DA as a SERP rank improver, then you are somewhat wrong. Let's discuss this a little further to be clear.
How Domain Authority Affects SEO?
The above definition clears out that you cannot expect your site to rank higher based on a high domain authority score. So how is domain authority useful? Basically, it makes your site trustworthy.
This, in turn, helps you create connections in your niche and get links from authoritative sources. Google will surely notice these things and ultimately rank you higher. What we want to say is that domain authority has an indirect effect on SEO.
Which Factors Affect Domain Authority?
By now, you should clearly know the basic definition of domain authority. But how does this metric fluctuate? What factors cause the DA score to increase or decrease? In the following, there are 3 things that can cause your domain authority to change.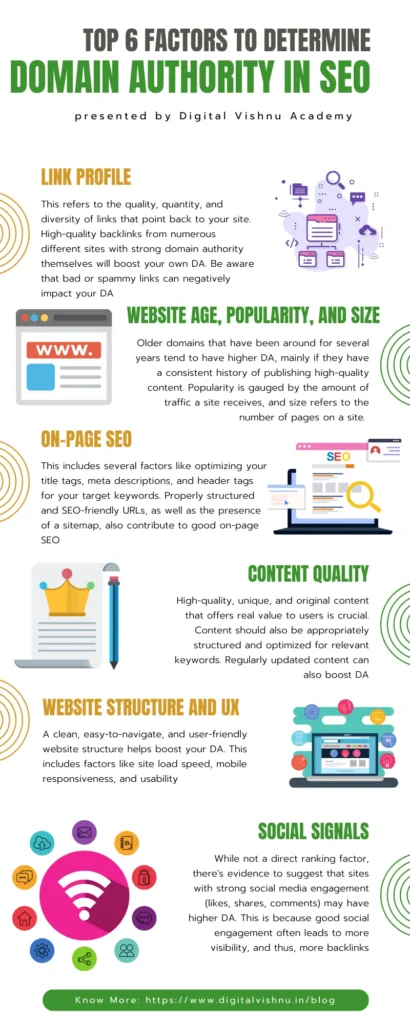 1. Standard of Content
The level of quality of content on your website can greatly affect the domain authority score of your website. If your content is irrelevant and non-informational, users will not value it much. When that happens, the dwell time on your site will decrease.
Consequently, the domain authority score will also fall down.
2. Quality of Links
The amount and standard of hyperlinks used on your site are probably the most influential factors affecting domain authority. Your DA score will be decent if you link to greatly credible sites.
But if the hyperlinks on your website lead to spammy sites, then your domain authority can be seriously affected.
3. Number of Sites Linking to Yours
Like the worth of sites you backlink, the number of sites linking back to you also affects domain authority. If some content writer finds your content useful and cites it as a source on their website, it will substantially increase your site's credibility.
But you still need to be careful, as some unauthorized sites might try to link to you. This can impact your site's trustworthiness, and you need to take proper action about it immediately.
How to Check Domain Authority?
We have tried to clear out all the major factors affecting your site's domain authority. Now that you know what factors to keep in check, you might want to know your site's exact domain authority score.
If you want to get a detailed report, you can visit the free domain authority checker by Moz. However, if you want to check the authority of multiple websites or web pages at once, you can use other online bulk DA PA checker.
Tips to Improve Domain Authority
To make things even easier for you, here are some tips or techniques that you can apply to enhance your domain authority score.
1. Utilize Guest Posting Opportunities
Guest posting or blogging means writing content on third party sites or sites that are not yours. Most guest posting sites allow you to link back to your own site. However, because of SEO concerns, you have to make the link appear natural.
Your DA score can rise considerably if you link to your site in a guest post. All you have to do is use a non-promotional tone and keep reader facilitation as your first priority.
2. Get Listed in Local Directories
This tip is useful for local businesses that prefer an audience located in their vicinity. Local directories are shown as a result of searches like 'grocery store in my town.' Search engine shows a list of stores to the user, and these stores are shown in the form of directories.
If you get listed in them, you will enjoy two benefits. First, your DA score will increase. And second, your online visibility will increase. In this way, you might get an increased number of customers on your site and in your physical store (if any).
3. Link to Trusted Sites Only
You might have guessed this already, but linking to credible sites can improve your authority score by a landslide. But you will have to be patient, as the score won't immediately skyrocket as soon as you insert a quality link.
You should just keep looking for opportunities to add credible backlinks in your content and wait for the DA score to increase. This is an important step because 68% of marketers consider the DA score a metric to evaluate backlink quality.
In other words, domain authority and backlinks have such a connection that they affect each other greatly.
4. Provide Informative Content for your Audience
No matter the nature of your site, the primary reason someone visits it is to solve a problem. It can be to buy a product, gather information, find a solution to some issue, etc. So, that is what you should provide.
You must never get tangled in the technical stuff so much that you forget the main goal of your site. As your top priority, you should provide valuable and informational content that solves your customer's query.
Adding backlinks and other optimizations are all secondary steps. If you create quality content, you can get a high domain authority score and happy users simultaneously.
Wrapping up
Domain authority is a great metric for calculating the authenticity of your website. When trying to improve your site's general performance, domain authority should be kept in mind. This simple score can give you great insights on how to enhance your site.
Also, this metric indirectly affects SEO as well. So, if your domain authority score is high, the likeliness of your site ranking well in search engines should also be high.