Requirements
Min 12th Pass
Basic Computer Knowledge
Internet Browsing Skills
BE/MBA/MCA/Arts/Any Degree
Features
Online / Offline Class
24/7 Live Support
Weekdays & Weekend Batches
Placement Assistant
Free Internship
No. 1 SEM Course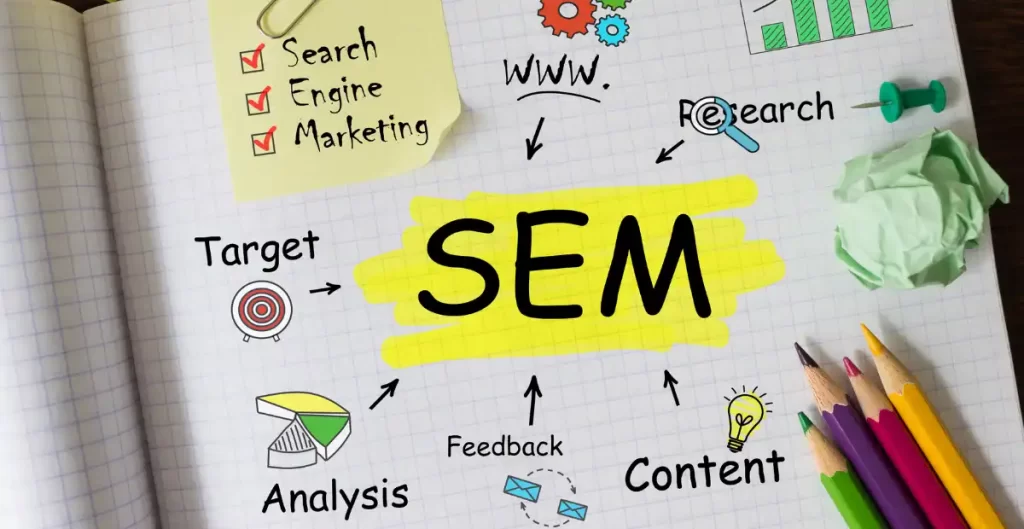 SEM Course Introduction
You've heard of PPC, SEO, and maybe even social media. But do you know what SEM is?
Search Engine Marketing (aka SEM) is the practice of advertising goods and services to Internet users on search engines like Google, Bing, Yahoo!, and many others. So let's go over some basics first: This type of marketing includes keyword research that will help your website rank on search engines for particular phrases or keywords that are related to your products or industry. You can then use these keywords to advertise alongside other companies on the same topic in the form of Pay Per Click Ads (PPC). It's one of the most popular forms of online marketing – but there are some pitfalls if it's not done correctly.
Follow these 5 steps and you'll be on your way to SEM mastery:
1. Effective Keyword Research: Do Your Homework
Brandon Dube, Owner of Media Advantage Inc. says "I have often said that when it comes to SEM, keyword research is the most important aspect. The reason is that when you are advertising online you are competing for someone's attention. You need to be sure that the offer you are making is relevant to what they are looking for. There's no such thing as cheap SEM. You need to make sure that you are getting as much bang for your buck as possible. So the first step in your SEM campaign is finding the right keywords and phrases."
2. Choose Your Search Engine
The next step is to decide which search engine you will advertise on. While it is possible to run PPC ads through multiple search engines, it's best to start out with one. When choosing a search engine, consider how large your target audience is; the larger the audience the better chance you have of reaching them and converting them into customers. You'll also want to consider your budget and how much volume (the number of times keywords are searched for) your targeted phrase has.
3. Build Your Ad
As far as writing your ad goes, you'll want to be sure to include your keywords in the headline, description, and URL of the ad. It may seem like common sense, but if you try to put all of your keywords in one place it can end up looking like spam. You also need to include a call-to-action (CTA) that clearly explains what users will be clicking into after they click on your ad. Here are examples of how this might look:
4. Test, Test, Test
No matter how well you craft your ad, things may not go as planned. According to Dube, "It's also important to remember that SEM is a test and learn the process. You need to test and optimize your ads and landing pages (these are the pages that people go to when they click on the ads) frequently in order to get better results down the road." One of the best ways to do this is by using landing page A/B testing software which allows you to create two different versions of your landing page – one with a headline, description, or CTA that differs from the other – then see which version performs better based on certain criteria like conversion rate.
5. Continue to Grow Your Audience
SEM is a long-term process. It's important to remember that you're not just looking for the first sale, but rather the first introduction to your brand and products. In order to grow your audience, it's important that you continue making improvements on your ads and landing pages. According to Dube, "You need to constantly be testing, testing, and testing. You need a diverse set of keywords so you can find the one that really brings in customers for you. You need to be constantly on the lookout for new tactics, new ideas, and better ways to do things."
And just like anything else, it's important to know when to cut your losses. Dube recommends "Let the market tell you when you need to cut your losses. If something doesn't bring in customers, you can't expect people are going to stick around forever. You need to make sure that the effort you are putting into SEM is something that will bring customers in."
Why SEM course is Important?
Good SEM can play a crucial role in search engine optimization. A good SEM course can provide the necessary tools and information to help you understand the importance of Search Engine Marketing. This will help you understand how SEM can help your business grow by providing exposure for your product or service.
The best SEM courses will teach you how to get your site to the top of search engines, providers tools that will help you with your SEM campaign, and how to maximize your ROI.
You'll also learn more complex strategies for dealing with customers. For example, if the product is being sold online, it must be delivered to customers in a timely manner. The course can help you deal with customer queries and complaints which gives the business a chance to improve its reputation among customers. A good marketing course can also teach you how important marketing is in relation to various economic sectors. Some consumers are looking for high-end products while others are looking for cheaper alternatives.
The way a product is marketed can make all the difference. For example, some products might be marketed in a more expensive way while other products might be marketed in a cheap way. A decent SEM course will teach you how to market different products based on their price range.
A proper guide can help you know when it's time to add new items to your store. Once you add new items, it will bring your site more traffic which can help you increase your profit margins. If however, your site is not properly optimized, there is a chance of losing customers which can damage your business overall.
How to Learn SEM Course Online Free
There are a number of ways you can learn SEM online. One is to use video-based courses. These courses generally focus on the latest and most popular tactics in SEM and how they work in practice. You can also choose to attend an in-person seminar which will offer the benefit of face-to-face interaction with other students and instructors.
If you're looking for something more hands-on, then finding a course that is offered by industry professionals will give you valuable input from people who know how to do things right when it comes to SEM marketing. Another option would be finding a personal trainer that offers sem courses for individuals who are looking to improve their digital marketing skillset.
How to Learn SEM Course
Learning SEM can be an easy process if you just know how to do your research and look for the right online course. Here are ten important points for you to consider:
1. You need to consider your goals and what you want to achieve. It's the first step in learning anything and it's important that you do so before choosing an SEM course. It's important that you know precisely what type of training you seek so that you decide on the right courses based on your needs.
2. You want courses that come with some sort of guarantee or promise of results. Look for courses that can offer you a refund if you don't like what they offer after the training.
3. There are different types of SEM courses. Look for what suits your needs and make sure you choose the right course based on your skill level and time constraints.
4. When it comes to SEM, there's a wide variety of courses available online and offline. It's important to know what type of training best suits your needs so that you don't waste time or money on those that just aren't right for your situation.
5. Research how long courses can take before booking one as well as costs associated with it as costs may vary depending on where you choose to go.
6. Decide on the right SEM course to suit your needs and make sure you choose one which provides all of the necessary tools and training.
7. Keep in mind that there are different SEM courses available online and offline depending on the level of expertise required for taking part.
8. Think about what you can do with the skills and knowledge you gain from a course and whether it will help with your current situation or help you in establishing a new one in the future.
9. Consider how much time and money you want to spend before choosing an SEM course online or offline.
10. Decide on the right SEM course based on the quality of the instructors that can be found as some instructors are better than others.
SEM Training Course in Coimbatore
There are a number of places where you can find good SEM training courses to be completed in Coimbatore. You can also get online training that will offer the benefit of remote interaction with other students and instructors. You can also find a course that is offered by industry experts which will help you gain useful input from those who have been in the business for a long time and who know exactly what they're talking about.
A good SEM training course can provide you with knowledge and skills that will help you be successful in your digital marketing endeavors. You can learn from those who have been around the block to those who have been born with the right set of smarts. In addition to this, you can also choose to take a course online as well as offline depending on your needs and requirements.
How to Learn SEM Course Google
It's not easy to find the best SEM training course. SEM training is offered with different types of service by various organizations with or without certification.
There are many things to consider when it comes to learning about SEM marketing including your goals, time, and budget. Find all of this information before choosing the right type of training for you. There is also a wide variety of courses that can be found online as well as offline depending on what you need from them and what your level of expertise is in this field. It might be a good idea to research which courses offer tools as well as for instructions for those who find themselves lacking in these necessities when they first start out on their digital marketing journey. Decide on what course provides the most practical experience for you to gain all of the fundamental knowledge.
How to Search SEM Course in Coimbatore
Consider all of your options and reasons for taking an SEM course.

Know what you need and want out of your course and look for the right one based on those needs.

Research how much time and money you're willing to spend as these, unfortunately, vary depending on the type of course that you choose to do.

Choose a Sem Course that provides all the necessities such as tools, training, and instructors with various levels of expertise based on your skill level as well as experience in SEM marketing.

You can find a number of places that offer providers online as well as offline.

Find out what your options are for taking an SEM course in Coimbatore.
SEM Course Modules
Digital Vishnu covers the following search engine marketing topic with hands-on experience.
What will you learn in this SEM training course?
Introduction about Search Engine Marketing

Various features of the Google AdWords program

How to choose the right keywords for the advertising campaign

Types of keyword match types and their significance

Familiarize with the PPC auction model

How to set up the ad campaign and the right pricing

How to build the campaign based on various conversion factors

How to analyze the performance with the right metrics

How to create dynamic ads and split test campaigns

Google Display Network and video ad campaigns

Google Search Network and text ad campaigns

Google Display Network and shopping ad campaigns
Who should learn this SEM Course training?
Digital Marketing Professionals,

Advertiser,

Analytics

Manager,

Project Managers,

Entrepreneurs,

Sales & Marketing Professionals,

Business Analyst, Business owners,

Students (BBA, MBA, B.E, COMMERCE…),

Freelancers, and Other Professionals (IT, HR..)